Do you ever wonder why you can never seem to increase your self-esteem and deepen your self-love, no matter how many changes you make?
Do you ever wonder why you end up in disempowering relationships, even though you've done your best to pick the right match? 
Are you feeling frustrated with yourself because you keep making the same mistakes over and over again?
When you find yourself making the same mistakes, having the same experiences or feeling powerless to cause change in your life, that's a big sign that you have limiting belief systems. Limiting beliefs put a cap on your ability to love yourself deeper, increase your financial abundance, have healthy and successful relationships--they impact every area of your life. No matter how many books you read or videos you watch, until you start the healing process of releasing the fear and limiting beliefs, you will continue to have the same experiences over and over again. 
The 10 Secrets Masterclass is a collection of live classes Malane Shani has taught on helping people identify and release fears and limiting beliefs; she gives tips, tools and strategies to help you break through your personal barriers. With a wide range of self-healing exercises and activities, you can overcome fear and activate your power to create the exact life you desire.
Included with this Masterclass is a companion workbook intended to support you in finding and clearing whatever has been holding you back in your life.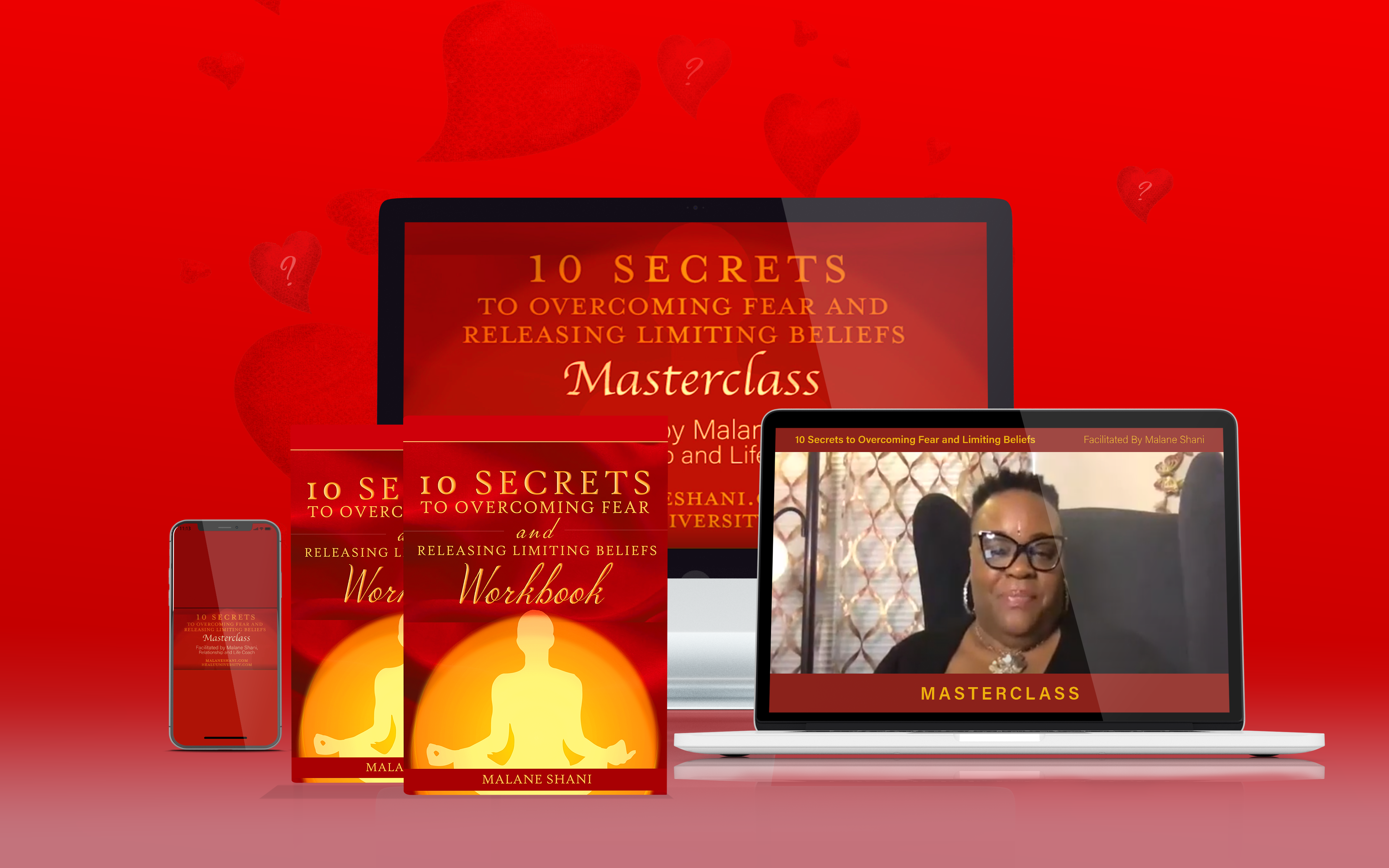 What You Will Learn from This Masterclass
How to Identify Limiting Beliefs
How to Deepen Your Self-Trust
Why Daily Practice is Key to Attracting Your Desires
How to Open Your Heart
How to Clear and Release Limiting Beliefs and Behaviors
How to Listen to and Follow Your Intuition
How to Forgive Everyone For Everything
What's Included in the 10 Secrets Masterclass:
- The 10 Secrets to Overcoming Fear and Limiting Beliefs Workbook: featuring self-healing exercises, reflection questions, quotes and journal pages to help you take a deep dive into the Masterclass.
- The 10 Secrets to Overcoming Fear and Limiting Beliefs Masterclass: featuring eleven power packed modules such as "How Do You Love You?" and "Forgive Yourself First."
- The 10 Secrets to Overcoming Fear and Limiting Beliefs Audio Set MP3: an easy and convenient way to listen to the 10 Secrets Masterclass throughout your day
- Coaching Session with a Master Relationship & Life Coach: personalized one-on-one support to help you begin your healing journey, release limiting beliefs, pain and trauma from the past and create your life on purpose